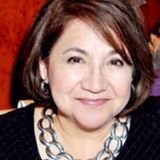 ABOUT THE ARTIST
Born in Juarez, Chihuahua, Mexico and raised in the Southwest.
Attended the University of Texas at El Paso prior to moving to the Phoenix area to attend Arizona State University. She has spent most of her career in social services and with the retirement from government service, her life has come full circle, and she is again painting.
She is a contemporary painter and paints in acrylic, and mixed media. Women and color are prominent in her work and represent the strong women of our southwest life. Her art was influenced by the stories her grandmother told of the importance of women as the givers of life and their importance to the balance of the world as well. The intensity of color in her paintings reflects her culture, the vitality of life in the Southwest and the relationship to the earth and sun, and the necessity to respect them and the life they bring.
She has exhibited in various venues throughout Arizona with reviews in print and online media. She has had solo and group exhibitions in Arizona.